Mar 01, 2019 (https://miamioh.edu/cec/news/2019/03/ocwic-conference.html)
By Maggie Cavanaugh CEC Reporter
Recently, 14 Miami CEC students attended the Ohio Celebration of Women in Computing (OCWiC) Conference.
OCWiC is a bi-annual event that gives women the opportunity to explore careers in IT, to network with other young students and to meet potential mentors. This conference gives young women the opportunity to explore their career path and to be inspired to complete their studies towards a computing degree. Young women have the chance to learn from other women leaders in the computing industry. OCWiC was founded in 2005 to help connect the many female computing students across all universities and colleges in Ohio.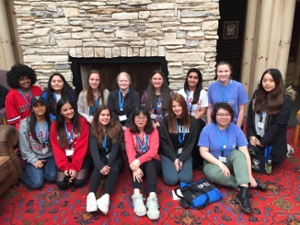 Miami Students at the OCWiC Conference 
The conference consisted of Research overview talks, student discussions, career talks, and activity sessions. All of these students were able to participate in the many events held during the conference, and they gained knowledge and insight from leaders in the industry. The conference was held in Huron, Ohio from February 22nd to the 25th.
The Miami students were accompanied by Dr. Karen Davis, associate professor in the department of computer science and software engineering. They found the experience to be extremely impactful, filled with many events that helped prepare them for a future in computing. Students networked with other students and professionals, and found the resume review session to be extremely beneficial during their time at OCWiC.
This conference helps build the confidence of our CEC students and gather mentor advice from a very supportive environment. We love to support the future success of our students, and are proud of both the graduate and undergraduate students who attended OCWiC. To learn more about OCWiC please visit their website at OCWiC Information.